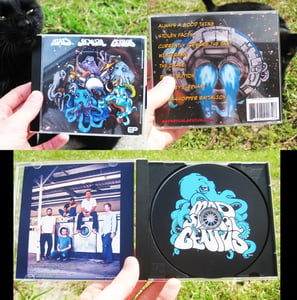 $

7.00
Our first CD release, provocatively titled "EP", features 8 of our smash hits:
1. Always a Good Thing
2. Stolen Faces
3. Currently Viewing the Past
4. Winterman
5. The Chase
6. Panic Button
7. Paisley Elephant
8. Grasshopper Battalion
This CD will take you on a magical journey through the mind of an extremely intelligent octopus seeking its mate and discovering its powers of destruction.
One of the top-played albums on WPRK 91.5 fm in Winter Park.
Guest artists include Cynthia Calhoun and DJ YNOT
Also available for download at Band Camp, as well as on iTunes and Amazon